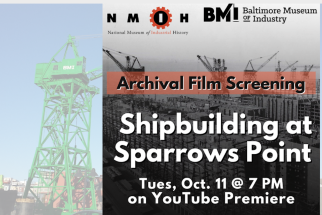 Tuesday, October 11, 2022, 7:00 PM – 8:00 PM
Virtual Event!
Free
Tuesday, October 11 | 7-8 PM
Free, no registration required, on YouTube
Be among the first to see recently digitized footage from The Port that Built a City and State, the weekly program hosted by Helen Delich Bentley on WMAR between 1950-1965, showing shipbuilding and steelmaking at Sparrows Point in this YouTube Premiere. This program is part of Steel Weekend programming hosted by the National Museum of Industrial History in Bethlehem, PA.