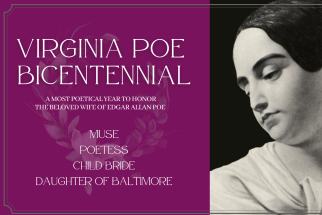 Tuesday, March 21, 2023, 7:00 PM – Tuesday, July 25, 2023, 8:30 PM
Repeats monthly on March, April, June, July on the third Tuesday 5 times. Also includes Tue May 10 2022.
Westminster Hall and Burying Ground
Edgar Allan Poe famously proclaimed the death of a beautiful woman "the most poetical subject in the world." The prolonged suffering of his beautiful, dying wife, Virginia Poe, almost certainly inspired this belief. Virginia Poe remains one of the most enigmatic and controversial figures in the famed author's history. Join us for a series of live readings, themed discussion, and Q&A about the famed muse, poetess, child bride and daughter of Baltimore.