Salman Toor: No Ordinary Love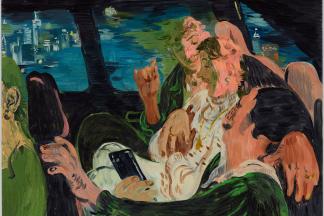 Salman Toor: No Ordinary Love will feature more than 45 paintings and works on paper made between 2019 and 2022, that weave together motifs found in historical paintings with recognizable 21st-century moments to create new worlds based in Toor's imagination. Among the works are several made especially for the exhibition and inspired by paintings in the BMA's renowned 17th- to 19th-century European collection, such as Sir Anthony van Dyck's Rinaldo and Armida (1629). This builds on the museum's commitment to inviting contemporary artists to reinterpret historical works within its holdings, with prior projects by artists such as Tschabalala Self and Stanley Whitney.
No Ordinary Love captures the ways in which Toor upends art historical traditions to center brown, queer figures and to investigate outdated concepts of power and sexuality. The exhibition will also include a selection of the artist's sketchbooks.
The exhibition is curated by Asma Naeem, the BMA's Eddie C. and C. Sylvia Brown Chief Curator, and is accompanied by a fully illustrated catalogue, including essays by Naeem as well as writers Evan Moffitt and Hanya Yanagihara.
Event Contact
Sarah Pedroni
443-573-1700
Event Details
Repeats weekly Sunday and Wednesday and Thursday and Friday and Saturday -- until Sunday October 23, 2022 -- except Sunday June 19, 2022.
Free
Location
Add Event To Your Calendar