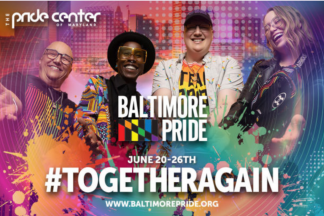 Baltimore will come #Together Again on June 20-26, 2022 to celebrate the contributions made to society by sexual and gender minorities. Hosted by the Pride Center of Maryland, Pride 2022 will bring 50,000 people from throughout the region to Baltimore for a week of celebration, recognition and fun. In person for the first time since 2019, it's wonderful to be #Together Again.
Schedule of Events
Family Pride - June 22
Druid Hill Park @ 6:00 - 7:30pm
Youth Pride Party - June 23
(MIDDLE/HIGH SCHOOL)
North Ave Market @ 4:00 - 9:00 pm
Join the STAR TRACK team and your favorite Baltimore drag performers for a Youth Pride Extravaganza!! Jesus Vice will be bringing a night of amazing drag performances, dancing w/ DJ Amy Reid, and contests throughout the night with giveaways including a Nintendo Switch!! This event is for youth ages 12-17.
Twilight on the Terrace – June 24
Returning after a two-year hiatus, Twilight on the Terrace marks the start of Pride weekend in high style. A Pride tradition, this spectacular night features amazing craft cocktails and food from Gertrude's, performances from local artists, and dancing under the stars
Parade – June 25
On Saturday morning, The Baltimore Pride Parade will kick off the day's activities at 1pm. The route begins at North Charles and 33rd Street, passes Wyman Park and at N. Charles & 23rd Street, and culminates at the Block Party.
Block Party – June 25
The Parade flows directly into The Block Party, so continue in the fun with us in Station North. You're going to want to stay all day so that way you don't miss any of the guest DJs, drag performers, and this year's headliner: Brandi!
Pride in the Park – June 26
On Sunday, the festival continues at Baltimore's history Druid Hill Park with performances on the main stage, exhibitors, and more fun throughout the park. This year will be bigger than ever, so gather the squad, bring a picnic blanket, and get there early so you don't miss a thing.
Queen's Cruise in Partnership with City Cruises – June 26
Come Sail and Slay! Celebrate Baltimore Pride on the water aboard Queens Cruise, a fundraising event for The Pride Center of Maryland aboard the Spirit of Baltimore. This event will feature live entertainment by some of Maryland's favorite drag artists. Event includes food, drinks and amazing music.
Event Contact
Event Details
Monday, June 20, 2022, 12:00 AM – Sunday, June 26, 2022, 12:00 AM
Free
Location
Add Event To Your Calendar