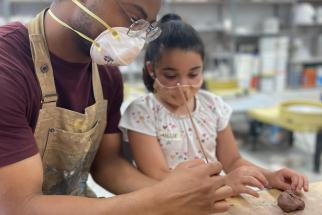 Wednesday, November 9, 2022, 3:30 PM – Wednesday, February 8, 2023, 6:30 PM
Repeats weekly Wednesday -- until Wed Dec 14 2022 -- except Wed Oct 05 2022.
Baltimore Clayworks
This is a 12-week afternoon class for ages 6 – 12. Students will work with their hands and discover the magical qualities of clay! They will explore texture, color and shape while building technical skills as they create a wide variety of wonderful creations. Each class session will introduce a new technique and present a new, exciting challenge. All works will be created in red earthenware, decorated with vibrant AMACO velvet underglaze and glaze fired to cone 04. Class includes all materials and firing.