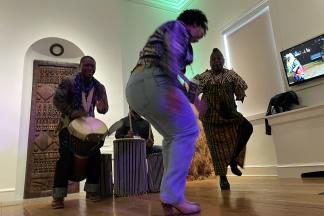 December 3 @ 1:00 pm – 3:30 pm
$15 Includes Special Event and Exhibition; $25 for Sankofa Passport
Join us for a special presentation and interactive drumming experience for families. Learn about some of the African traditions included in the exhibition and get hands on with drum and dance! This program is 45 minutes in length. Two identical programs offered this day at 1:00pm and 2:30pm.
The interactive exhibition features a look back at the work of Sankofa Dance Theater, utilizing costumes, archival materials, historical footage, and built environments designed to transport visitors into the past, and into the future. Check out the complete Sankofa experience website!
*Masks required at indoor events
Event Contact
Nancy Proctor
6672221814
Event Details
Saturday, December 3, 2022, 1:00 PM – 3:30 PM
6672221814
Location
Add Event To Your Calendar