Neighborhood Energy: The Power in All of Us to Make Baltimore even Better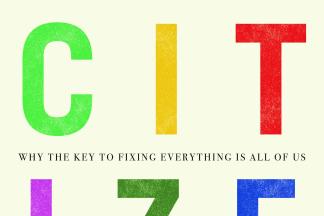 Free | RSVP in Advance
*Masks required at indoor events
The Peale is thrilled to host an important, topical conversation with thought leaders and doers–among them are the Baltimore "Guardians," featured in the acclaimed community art project The Guardians: Reshaping History. The Guardians are a cohort of Baltimore's finest, yet underrecognized, leaders. They are ambitious black women leading change in the everyday lives of their families, neighbors and communities. The Guardians panelists will explore individual power and community growth with author Jon Alexander.
Jon Alexander is the author of CITIZENS: Why the Key to Fixing Everything Is All of Us. The conversation will uncover stories of consistent individual action that leads to systematic change. The talk is likely to inspire and challenge the audience to consider the power that resides in them personally when they participate in the decisions and journey to make a better world.
Jon is author of CITIZENS: Why the Key to Fixing Everything is All of Us, and co-founder of the New Citizenship Project, a book and company that work to shift the dominant story of the individual in society from Consumer to Citizen. Among other plaudits, CITIZENS was recently listed by McKinsey as one of its Top 5 Recommended Books in its Summer Reading Guide 2022, described as "an underground hit" in the Financial Times, and selected by the World Economic Forum for its CEO Book Club. Jon began his career with a decade in the advertising industry, winning the prestigious Big Creative Idea of the Year, before making a dramatic change. Driven by a deep need to understand the impact on society of 3,000 commercial messages a day, he gathered three Masters degrees, exploring Consumerism and its alternatives from every angle. In 2014, he co-founded the New Citizenship Project to bring the resulting ideas into contact with reality. In CITIZENS, he is ready to share them with the world.
Event Contact
Nancy Proctor
6672221814
Event Details
Thursday, December 8, 2022, 5:30 PM – 7:30 PM
6672221814
Free
Location
Add Event To Your Calendar