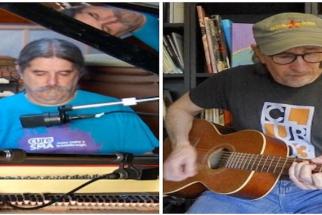 Socially Distant Musical Mayhem
Howard Markman & Glenn Workman Present Hg TV (Mercury Television).
Howard & Glenn have performed together at An die Musik Live many times, as well as with several other groups.
Howard Markman, guitar & vocal
Glenn Workman, keyboard & vocal
special appearances by:
Seth Kibel, saxophone
Barry Caudill, saxophone
Looking at the world through soot-covered glasses, Glenn & Howard slide through a variety of musical moods with uncommon grace and biting humor.