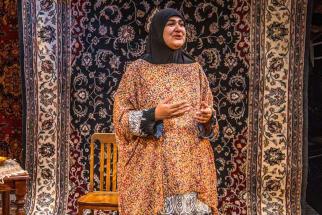 AVAILABLE VIRTUALLY all of July! Unveiled: A One Woman Play by Rohina Malik
Racism. Hate crimes. Love. Islam. Culture. Language. Life.
Five Muslim women serve tea and uncover what lies beneath the veil in this ​critically acclaimed one-woman show.
UNVEILED, a one woman play written and performed by Rohina Malik. Rohina has performed the play at the 16th Street Theater, Victory Gardens Theater, Next Theater, Brava Theater, Crossroads Theater in NJ, Theater project Baltimore, and many more.