Founder's Day 2021: Virtual Celebration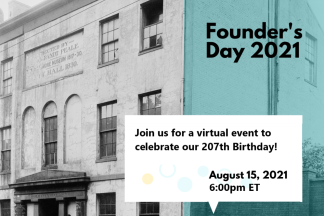 It's the Peale's 207th birthday party! Join us for an online celebration!
This hour-long online event includes a virtual tour of the Peale's renovations, a preview of the upcoming Guardians exhibition, and the debut of the original score composed for the Peale's Proximity Project by Scott Patterson from Afro House. WYPR's Aaron Henkin will be with us to reflect on the award-winning Out of the Blocks story series as it comes to an end, and share what is coming next from its renowned producers. See silhouette cutting in the 19th century manner by artist Lauren Muney, and more!
This event will be simulcast to the Virtual Peale in Second Life, which celebrates its one year birthday on the same date!
Event Contact
Event Details
Sunday, August 15, 2021, 6:00 PM – 7:00 PM
Free
Location
Add Event To Your Calendar