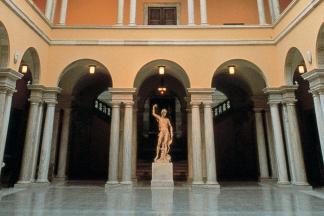 Experience the collection in new ways as musicians and sound-artists transform the galleries with sonic installations. This year we provide a new experience with filmed performances in the galleries streamed online. WAYTA will perform a 20-minute concert inspired by the Sculpture Court at the Walters. WAYTA's performance centers indigenous culture and values in contemporary space and context. Their repertoire of traditional, popular, and original Andean instrumental music asserts their expression as an anticolonial statement and a call for people's unity.
About the Artist
WAYTA was formed in 2018 in the social justice movements of Washington D.C. Initially starting as part of a larger musical project during the Standing Rock (NoDAPL) solidarity movement, WAYTA was consolidated as a duo and started performing and arranging instrumental Andean music as a form of cultural resistance and community participation. Multi-instrumentalists Cesar Mazat (Guatemala) and Gustavo Vargas (Bolivia), make the duo WAYTA a musical statement of unity for the Abya Yala.
WAYTA se formó en 2018 en los movimientos de justicia social de Washington D.C. Inicialmente formado como parte de un proyecto musical más amplio durante el movimiento en solidaridad con Standing Rock (NoDAPL), WAYTA se consolidó como un dúo y comenzó a interpretar música Andina instrumental como una forma de resistencia cultural y participación comunitaria. Los multi-instrumentistas, Cesar Mazat (Guatemala) y Gustavo Vargas (Bolivia), hacen del dúo WAYTA una declaración musical de unidad para el Abya Yala.
Please note: This event is virtual and is available exclusively on our Facebook and YouTube pages. You don't need an account on either platform to enjoy the program.
Event Contact
Event Details
Thursday, July 29, 2021, 5:30 PM – 6:00 PM
Free
Location
Add Event To Your Calendar