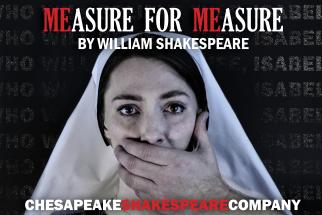 Saturday, February 8, 2020, 8:00 PM – Monday, February 24, 2020, 2:00 PM
Repeats weekly Sunday and Friday and Saturday -- until Sun Feb 23 2020.
Chesapeake Shakespeare Company
Welcome to the original "Sin City."
Vienna's puritanical new leader is cracking down on crimes against morality, and a novice nun holds her brother's fate in her hands when he is condemned to die for a youthful indiscretion. She begs for mercy, and the new sheriff in town is willing to grant it… for a price. In the face of his shocking quid pro quo, Isabella won't go down without a fight. But can virtue triumph over vice?