The Rocky Horror Show - Valentine's Day Edition!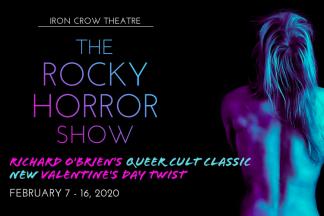 Baltimore's award-winning and favorite tradition, The Rocky Horror Show, returns with a Valentine's Day spin like you've never seen before! Experience this quintessential queer theatrical experience live on stage — complete with call-outs, cascading toilet paper, and an array of other audience participation props. In this live stage musical best known for the 1975 cult film, sweethearts Brad and Janet, stuck with a flat tire during a storm, seek shelter at a mysterious old castle on a dark and stormy night, where they encounter transvestite scientist Dr. Frank-N-Furter. As their innocence is lost, Brad and Janet meet a houseful of wild characters, including a rocking biker and a creepy butler. Through elaborate dances and rock songs, Dr. Frank-N-Furter unveils his latest creation: a muscular man named "Rocky." Bring your sweetheart (or sweethearts!) to this deliberately kitschy rock 'n' roll sci-fi gothic thriller, now more daring and outrageous than ever! Be sure not to miss the special Valentine's Day midnight performance!
Event Contact
Sean Elias
443.637.2769
Event Details
Repeats weekly Friday and Saturday -- until Sunday February 16, 2020.
Repeats weekly Sunday -- until Sunday February 16, 2020.
Thursday, February 13, 2020, 7:00 PM – 9:00 PM
Friday, February 14, 2020, 11:30 PM – Saturday, February 15, 2020, 1:30 AM
443.637.2769 (CROW)
Location
Add Event To Your Calendar
What Others Are Saying
"The only bad thing about the Iron Crow production is that it is over too soon – all five performances were packed into this weekend.  If you were able to see it, you had a good time. If you weren't able to, make a note on your 2019 calendar to get tickets for next year's version. Don't dream it, see it." - DC Metro Theatre Arts, 2018 "It's hard to imagine a more thoroughly enjoyable theatrical experience, pure fun embracing differences and celebrating sexuality." - DC Metro Theatre Arts, 2017 "I can confidently say, without hesitation, that I have never had as much fun seeing this material as I did seeing Iron Crow Theatre's version." - DC Metro Theatre Arts, 2016