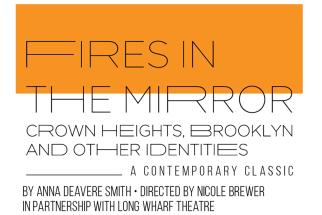 Saturday, November 27, 2021, 7:30 PM – Sunday, December 19, 2021, 10:00 PM
Repeats weekly Sunday and Monday and Tuesday and Wednesday and Thursday and Friday and Saturday -- until Sun Dec 19 2021.
Baltimore Center Stage
Fires in the Mirror: Crown Heights, Brooklyn and Other Identities by Pulitzer Prize finalist Anna Deavere Smith, directed by Nicole Brewer in partnership with Long Wharf Theatre takes Baltimore Center Stage Nov 27 - Dec 19! Get your tickets now. You won't want to miss this show!