The Occasional Symphony presents: MASQUERADE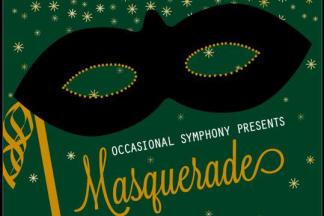 After a standing-room-only Halloween concert, the Occasional Symphony will combine the arts of music and dance at the MASQUERADE. Inside Hampden's historically hip Church and Company, conductors Joshua Hong and Joon Choi invite the audience to dance to masterful waltzes composed by Strauss, Tchaikovsky, Berlioz, Ravel, Saint-Saens, Berg, WEbern, and more including a premiere written by OS alumnus Scott Lee. Audience members will enjoy complimentary dance lessons, pastries, and drinks. Get your mask, your dancing shoes, and join the Occasional Symphony for an unforgettable evening!
Event Contact
Kelsey Ross
7176355424
Event Details
Friday, December 11, 2015, 8:00 PM – 10:00 PM
Location
Add Event To Your Calendar
What Others Are Saying
The Occasional Symphony creates innovative concert celebrations to engage the Baltimore community and illuminate the unparalleled experience of hearing live music curated for living spaces.