Drop Three Presents: Insert Your Holiday of Choice HERE!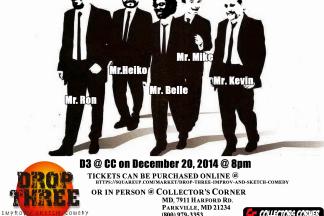 The first official show for Comedy at Collectors Corner with Drop Three and Friends promises to be a big one. And since we don't care what holiday you are celebrating you can come out and join us December 20, 2014 at 8PM at Collectors Corner MD, for some of the best sketch and improv comedy whatever deity you prefer has ever seen. Tickets are just $10 and they make an excellent stocking stuffer / substitute for coal and switches!
Meet us in beautiful Parkville, at Collectors Corner, 7911 Harford Road, Baltimore, MD 21234. Tickets can be purchased by calling 410-382-3870, online, at [email protected], or in person at Collectors Corner MD.
Drop Three Improv and Sketch Comedy is Baltimore's premiere sketch and improv comedy troupe, combining equal parts Saturday Night Live and Whose Line Is It Anyway into a show that is completely original and interactive every time the cast steps on the stage. Check us out at www.dropthree.com.
Collectors Corner MD, one of "Maryland's Coolest Stores!" Since 2001, Eisner Spirit Nominee 2011, 2012 & Finalist 2013 and Best of Baltimore 2008 & 2012 winner, check them out at www.collectorscornermd.com.
We'll see you, December 20, 2014 at Collectors Corner MD, 8PM for some holiday laughs!
#D3 outtakes and shorts!
Event Contact
Belle Burr
4103823870
Event Details
Saturday, December 20, 2014, 8:00 PM – 9:30 PM
4103823870
Location
Add Event To Your Calendar