Raul Midón - Legendary Singer, Songwriter and Guitarist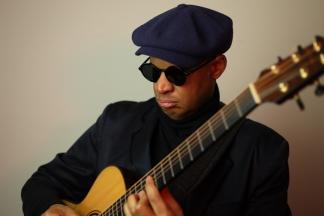 2x Grammy Nominee, Blind Guitarist and Singer-Songwriter Raul Midón returns to An Die Musik, in-person and livestream tickets available!
" ...a one-man band who turns a guitar into an orchestra and his voice into a chorus." — New York Times
"Raul Midón lives in a world of sound." — NPR
Singer, Songwriter, Guitarist and Engineer, Raul Midón established himself as a first-call session singer upon graduation from the prestigious Studio Jazz program at the University of Miami in 1991. He sang background vocals on more than 60 Latin recordings, many Grammy winning. In 1999 he was asked to join the touring band of Shakira.
Raul has worked with countless legends in the industry including Bill Withers, Herbie Hancock, Sting, Terence Blanchard, & Dianne Reeves to name several. He received two Grammy nominations back-to-back in 2017 and 2018 for his albums "Bad Ass and Blind" and "If You Really Want" in the Best Jazz Vocal Category.
During the lockdown Raul continued to collaborate with colleagues and appears in a duet on the Grammy winning album "Mendo" by Alex Cuba. He chose to pursue a long-time dream of recording a guitar duets album with some of his favorite guitarists including Mike Stern, Dean Parks, Lionel Loueke, Julia Bailen, Stephane Wrembel, Alex Cuba and more. This album 'Eclectic Adventurist' was released on his own label, ReKondite ReKords on 11/11/ 2022, to acclaimed reviews.
He continues to tour, write, record and is working on a novel, 'Tembererana.'
Event Contact
An die Musik
410 385 2638
Event Details
Wednesday, October 11, 2023, 7:00 PM – 10:00 PM
Location
Add Event To Your Calendar