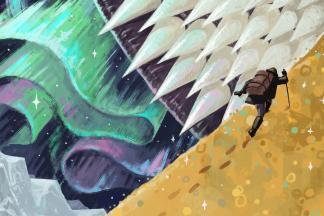 Come to the Baltimore Rock Opera Society's newest original rock and roll musical THE GOLD NIGHT. A survival horror story with a heart of gold!
Set in the 1890s Klondike Gold Rush, this experimental rock musical follows a group of prospectors, grifters, misfits, and a piano-playing sasquatch fighting for survival in a world threatened by money, monsters, and the unforgiving ice.
When an ancient Ice Worm awakens, an unlikely crew must come together or face an icy doom.
The show is running at 1 E Baltimore St, a historic bank building in the heart of downtown Baltimore. This is a pop-up event presented in partnership with the Downtown Partnership of Baltimore.
Opening September 29th and running through October 21st with General Admission tickets only $20!
Ticket tiers
General Admission - $20
Supporter Seat - $50
Includes:
- 1 free drink ticket
- Preferred seating
- Limited-edition show patch
Super Supporter Experience - $100
Includes:
- 2 free drink tickets
- Preferred seating
- Stage shout-out
- Show poster
- Limited-edition show patch
The Gold Night is proudly sponsored by:
Downtown Partnership of Baltimore, Amazing Spiral Comics, Baltimore Fiscal Partners, LLC, Work Printing & Graphics, Waverly Main Street, Pinkard Properties, LTYC, and Dymond
Bar Lead Sponsored by Union Collective, Charm City Meadworks, Wine Collective and Baltimore Spirits Company
Event Contact
Baltimore Rock Opera Society
Event Details
Friday, September 29, 2023, 8:00 PM – 10:00 PM
Saturday, September 30, 2023, 8:00 PM – 10:00 PM
Friday, October 6, 2023, 8:00 PM – 10:00 PM
Saturday, October 7, 2023, 8:00 PM – 10:00 PM
Sunday, October 8, 2023, 3:00 PM – 5:00 PM
Friday, October 13, 2023, 8:00 PM – 10:00 PM
Saturday, October 14, 2023, 8:00 PM – 10:00 PM
Sunday, October 15, 2023, 3:00 PM – 5:00 PM
Thursday, October 19, 2023, 8:00 PM – 10:00 PM
Friday, October 20, 2023, 8:00 PM – 10:00 PM
Saturday, October 21, 2023, 3:00 PM – 5:00 PM
Saturday, October 21, 2023, 8:00 PM – 10:00 PM
Location
Add Event To Your Calendar