Petra Polackova & Lovro Peretic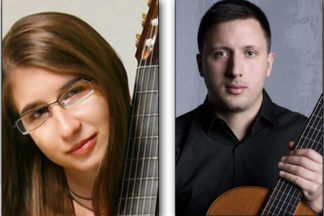 "A guitarist of extraordinary ability" (The American Federation of Musicians), Petra Poláčková began her guitar studies at the age of six and obtained her Bachelor and Master degrees with Paolo Pegoraro from the Universität für Musik und Darstellende Kunst Graz in Austria.
As a result of her musicianship, consummate virtuosity, and numerous first-prize awards, she has been invited to perform by many festivals around the United States, Europe, and Mexico. In 2020, she released her debut CD "WEISS" with music by the German lutenist Sylvius Leopold Weiss recorded on a 9-string romantic guitar.
Petra teaches in Austria at the Franz Schubert Music School Fürstenfeld, at Johann-Joseph-Fux Konservatorium in Graz, and was recently appointed Honorary Professor at the Royal Academy of Music Aarhus/Aalborg in Denmark.
Tonight, Petra performs on a 9-string romantic guitar made by Jan Tuláček.
Lovro Peretić is an award-winning guitarist from Zagreb, Croatia, who has received top prizes in various guitar competitions. The most significant ones are Guitar Foundation of America and Eurostrings, in addition to competitions in Germany, Italy, Greece, Croatia, France, Belgium, and China.
As a winner of Eurostrings he gave numerous concerts throughout Europe and as a winner of the GFA he recorded his debut album with Naxos to be released this season and he will perform extensively in the United States and Canada.
In addition to solo recitals, Lovro has performed with the Croatian Radio Television Symphony Orchestra, Dubrovnik Symphony Orchestra, and Zagreb Soloists, and he has performed with various chamber music groups such as the guitar trio Evocación, with whom he recently released his first album. Lovro began studying guitar at a young age with Xhevdet Sahatxhija in Zagreb. After graduating, he went on to study with Judicaël Perroy at the Haute Ecole de Musique Genève in Switzerland.
Event Contact
Asgerdur Sigurdardottir
4432962247
Event Details
Saturday, March 30, 2024, 8:00 PM – 10:00 PM
Location
Add Event To Your Calendar