IMPACT HUB BALTIMORE: Live Website Audits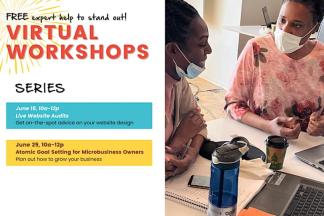 This spring we're hosting different virtual workshops as part of the Empower Baltimore program.
First impressions are a big deal and with so many business owners selling online, first impressions of your website are becoming increasingly more important.
According to researchers at the Missouri University of Science and Technology, it takes less than two-tenths of a second for an online visitor to form a first opinion of your brand once they've perused your company's website! That opinion determines whether they like your website or not, whether they'll stay or leave, and whether or not they'll spend their money with your business.
Want feedback on your website's first impression?
Join us Thursday, May 11th from 10a-12p via Zoom for mini website audits by a trained GoDaddy team member. These quick website audits will focus on the design and UX (User Experience) of your website and provide attendees with tips for improving the experience of your website visitors.
Register today!
Event Contact
My-Azia
4439601363
Event Details
Thursday, June 15, 2023, 10:00 AM – 10:00 AM
Free
Location
Add Event To Your Calendar