Evensong for the Commemoration of Indigenous Peoples Day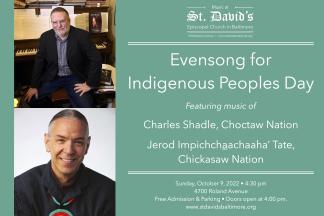 Indigenous Peoples Day is commemorated with a musical offering featuring choral music of Charles Shadle, Choctaw Nation, and Jerod Impichchaachaaha' Tate, Chickasaw Nation.
The event is free and occurs at St. David's Episcopal Church, 4700 Roland Avenue, Baltimore, MD. Doors open at 4:00 pm. Masks are encouraged.
The event will be livestreamed via Facebook (@stdavidsmusic) and YouTube (https://www.youtube.com/c/StDavidsChurchBaltimore).
Music at St David's presents the World Premiere of Sháá Áko Dahjiníleh, by Josh Armenta, 2021-2022 Composer-in-Residence. Poetry by Luci Tapahanso.
Event Contact
Douglas Buchanan
410-467-0476
Event Details
Sunday, October 9, 2022, 4:30 PM – 6:00 PM
410-467-0476
Free
Location
Add Event To Your Calendar
What Others Are Saying
A music series "offering admirable variety and depth of repertoire" (The Baltimore Sun), with free concerts, Evensongs, & special events through the year.