34th Annual Decorator Showhouse to benefit Historic Ellicott City, Inc.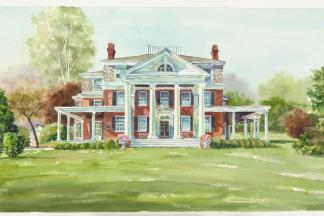 Culturally, historically, and architecturally significant, Oakdale, circa 1838 and 1898, is the ancestral home of Governor Edwin Warfield and is a magnificent estate on a tranquil 180-acre tract only 20 miles from both the Washington and Baltimore. Historic Ellicott City, Inc announces their 34th Annual Decorator Showhouse fundraiser set to take place at "Oakdale" (16449 Ed Warfield Road, Woodbine, MD 21797) beginning on Friday, May 13, 2022 and running until Sunday, June 5, Thursdays-Sundays with varying times. The property, which boasts 12 fireplaces and many impressive original details, will be beautifully transformed by 20 local designers into a wonderful showhouse ready for visitors. Tickets will be $30 in advance and $35 at the door and all proceeds will benefit Historic Ellicott City, Inc. For more information on Historic Ellicott City, tour times and purchasing tickets, visit https://showhouse.historicec.com or call 410-461-6908.
"Oakdale" is on the National Register of Historic Places and sited on land acquired by the Warfield's in 1766. Upon arrival to the front of the main home, guests will enjoy the grand front porch, graced by 18- foot Doric columns providing a striking view of the property's fields and woods. In 2005, an addition was built that artfully integrates an additional 8,870 square foot entertainment space onto the historic structure. And, a 60 X 30 pool adjoins this space via the conservatory. The combined structures are connected via a 120'covered colonnade merging into the main wraparound porch.
Event Contact
Connie Siegel
410-461-6908
Event Details
Repeats weekly Sunday and Thursday and Friday and Saturday -- until Sunday June 5, 2022.
410-461-6908
Location
Add Event To Your Calendar