Spectrum: Lecture by Lynn Cazabon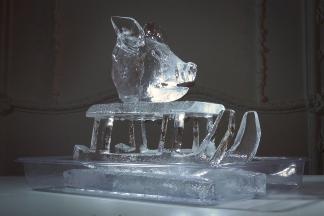 In conjunction with Spectrum: 2022 Visual Arts Exhibition (February 3 – March 12), UMBC's Center for Art, Design and Visual Culture (CADVC) presents a lecture by artist Lynn Cazabon, whose works will be on display.
Cazabon, a professor of visual arts, will discuss two projects: Losing Winter, a participatory, site-specific, multimedia project that explores the personal and cultural losses associated with the climate crisis, and Diluvian, a series of cameraless photographic prints that reflect on the contrasting decay rates of manufactured electronics and organic materials.
Additional information on this streaming event will be announced — please visit the linked site for details.
UMBC is committed to creating an accessible and inclusive environment for everyone. Live-captioning will be provided during this event. To request additional accessibility accommodations, please contact the CADVC at [email protected].
Image: Lynn Cazabon, still from Melt (2018).
Event Contact
Event Details
Tuesday, February 15, 2022, 4:00 PM – 5:30 PM
Free
Location
Add Event To Your Calendar