WEBINAR: Jeannine Falino "American Modernist Jewelry: The Excitement of the Avant Garde"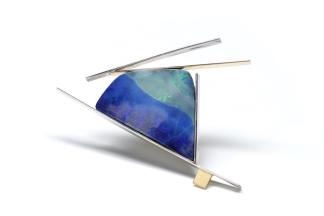 ART SEMINAR GROUP ONLINE PROGRAM THROUGH ZOOM
American Modernist Jewelry: The Excitement of the Avant Garde
Jeannine Falino, Independent Curator and Museum Consultant
From the postwar years through the 1960s, avant-garde jewelry was notable for its freedom of expression, relation to international artistic developments and experimental nature. Today, we recognize this marvelous efflorescence as the first flowering of the studio-craft movement. Among the leading artists of the day was Baltimore jeweler Betty Cooke, who opened her shop in 1948. She is the subject of the exhibition Betty Cooke: The Circle and The Line currently on view at the Walters Art Museum.
Exhibition curator Jeannine Falino will discuss the historic role of jewelry as social marker and accessory and its transformation into a new art form by painters, sculptors, and craftspeople. For these artists and their collectors, the glitter of the great jewelry houses held no charms. As succinctly stated by one wearer: "It looked great. I could afford it and it identified me with the group of my choice, aesthetically aware, intellectually inclined, and politically progressive. [It] . . . was our badge, and we wore it proudly. It celebrated the hand of the artist rather than the market value of the materials. Diamonds were the badge of the philistine." Bring your jewels, diamonds included, and learn about this American phenomenon, its landmark exhibitions, and Betty Cooke's place among these daring artists.
$15 door fee for guests and subscribers (no fee for members)
Event Contact
Art Seminar Group
4108791947
Event Details
Tuesday, November 30, 2021, 1:30 PM – 3:00 PM
4108791947
Location
Add Event To Your Calendar