Station North Shines: A 'Light' Art Walk Launch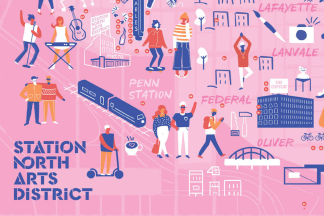 We are thrilled to announce a soft launch of Station North Arts District Art Walks for spring/summer 2021!
A new series of district art walks, Station North Shines, is getting a little brighter as spring carries us forward into new possibilities of safely gathering outside again! The event is free, we just ask that you register for a ticket so we can track attendance and wear a mask/face covering.
FRIDAY MAY 7TH from 5pm - 8pm, we are featuring the opening for "Shine in the Dark", a popup, outdoor gallery installation on the Ynot Lot fence, along with an in-person window tour of the Asia North 2021 Exhibit, an opening of Baltimore Jewelry Center's new show "United", a preview with ICA Baltimore, a world premier at Motor House by resident theater company Rapid Lemon Production, a window exhibit with Gallery CA, and a screening hosted by Blue Light Junction.
Can't make it to the in-person art walk? Join us for the last virtual event of the month-long Asia North festival, a workshop at 7:00pm titled "Making Stories with Where We're From", with artist Margaret Huey, details to join are below.
Last but not least: Head over to Hidden Harvest Farm at 1825 N Calvert for drinks and a screening at 7:30pm, hosted by Blue Light Junction. Swing by to learn more about this growing natural dye studio, alternative color lab, retail space, dye garden & educational facility and what to look forward to this summer at the garden!
We are pumped to have DJ James Nasty performing at the Ynot Lot from 6pm - 8pm!
VENUE DESCRIPTIONS:
We'll have a map of participating sites for you, but we encourage you to visit all the venues in whatever order you like! Start off at the Ynot Lot and stroll down North Ave to experience bold new work, support emerging artists, and remind us that the arts community in Station North is still going strong! Don't miss local restaurant specials.
Ynot Lot: "Shine in the Dark" opening featuring new work by 12 Baltimore artists and live DJ James Nasty
4 W North Ave, 5:00 - 8:00PM
*Get your map here*
Station North is thrilled to celebrate the opening of "Shine in the Dark," a juried exhibition of entirely new work by 12 of Baltimore's boldest emerging artists. Enjoy this popup gallery/journey through Station North to the sweet sounds of the legend voted Baltimore's best club DJ twice: James Nasty. Get ready to dance.
Shine in the Dark is an opportunity to move through the featured artists' conceptions of the heritage of the neighborhood we now call Station North, and our collective role therein. Station North includes Historic Barclay, Charles North, Greenmount West, and Baltimore's first Koreatown, located on unceded land of the Piscataway People. While our city has brought forth monumental changes in industry, technology, and architecture, Baltimore maintains enduring cultural and artistic traditions. How are you a part of that legacy? In a time that has been particularly dark for artists, this installation, and our district's collaborative art walk, will shine a light and safely bring people together.
Featured artists include Brandon Buckson, Markele Cullins, Jade Davis, Darius Denis, Gary Mullen, Philip Muriel, Chloe Ndour, LaToya Peoples, B/ue Robin, Brandi Robinson, Scout Roll, and Maya Sun. We are grateful to our jury panel making this exhibit possible: Kevin Brown, artist, legacy resident, co-owner of Nancy by SNAC, Megan Lewis, Motor House resident artist, illustrator, and award-winning muralist, and Alanah Nicole Davis, Impact Hub's Marketing and Outreach Manager, and Baltimore-based Performance Artist/Spoken Word Poet. Curatorial support by Abby Becker, made possible by Baltimore Neighborhood Heritage Area and the Maryland State Arts Council.
Learn more at https://www.stationnorth.org/shine-in-the-dark
Exhibition opening of United by artist Shani Richards at Baltimore Jewelry Center,
10 E. North Ave Suite 130, 5:00 - 8:00pm
This opening will ask for your participation to foster dialogue & understanding. In United, artist Shani Richards asks "Can a person take back an offensive/taboo word and make it their own?"
United is an exhibition of pendants featuring racial and ethnic slurs, sexual orientations, gender pronouns, and more. Richard's goal for the exhibition is that by revealing a rainbow of slurs, people will see themselves reflected somewhere in it and maybe gain a greater understanding of the power of the N-word. The art relies on audience participation and conversation. Throughout the exhibition, viewers will be invited to wear the pendant of their choice. Selfies posted on social media are encouraged so the conversation can spread out beyond the community. As people wear the pendants, there will be the opportunity to document and share your stories.
Visit https://www.baltimorejewelrycenter.org/exhibitions to learn more about the exhibition and ways that people can participate.
Asia North Exhibit 2021: April 10th - May 15th (self-guided window tour)
Six Venues along North Ave between Howard St. and St. Paul
April 10 - May 15: Launched on April 10th, the exhibit will be on view online (see link below) and in socially distanced locations throughout the Station North Arts District, including Motor House, Joe Squared, SNF Parkway Theatre, Charles Theater, North Avenue Market, Impact Hub, and Nancy at SNAC Cafe.
Featured artists include: Reed Bmore, Cheng Cao, Molli Chang, Seongyoon Choi, Anu Das, Marlo De Lara, Gloria Tseng Fischer, Farhad Heidarian, Margaret Huey, Linda Kato, Jinyoung Koh, Sunjin Lee, Jing Ma, Hadrian Mendoza, Miki + Dolor + Van Ngo + Hsiao-Chu Hsia, Sookkyung Park, Slothpotato, Grace Ren, Nahid Tootoonchi, Nikita Yogaraj, Anjali Wells, and Andersen Woof.
Attend the Virtual Workshop with artist Margaret Huey, Friday May 7th at 7:00pm:
"Making Stories with Where We're From" will utilize your memories, experiences, and knowledge to build your visual and written storytelling skills and learn to craft compelling narratives! Margaret Huey is a queer, Thai-American illustrator, cartoonist, and educator based out of Baltimore, MD. Register for this workshop here: bit.ly/AsiaNorth2021-StoriesWorkshop
To learn more about the festival and the Asian Arts and Culture Center, you can visit: https://www.towson.edu/campus/artsculture/centers/asianarts/events
ICA Baltimore (Institute of Contemporary Art)
16 W North Ave
ICA Baltimore has been dazzling us with their Flat Files exhibit, a directory of 50+ local artists selling new work online for $500 or less. Whether or not you can make it to the Station North Shines Art Walk, you owe yourself a visit to the Flat Files website to add new work to your collection! Visit: https://icabaltimore.org/products/collections/603
Follow @ICABaltimore and look out for updates on their first in-person show in more than a year, opening Friday May 14th. We may have a sneak peek preview for you on May 7th!
Motor House presents "Serious Adverse Affects", by Derek Lee McPhatter, a world premier by Rapid Lemon Productions
120 W. North Ave, 7:30pm doors, 8pm show
An unconventional scientist is on the cusp of a cure for a mysterious disease. But to complete her research she must find forgiveness from a family with no reason to trust her and embrace the transformative potential of her own healing. From the marvels of the modern laboratory to the inner depths of the human psyche, "Serious Adverse Effects" is an imaginative contemporary drama unfolding at a collision of medical ethics, blood memory, and forgiveness.
Directed by Noah Silas ("Give Me Moonlight", 2020). With designs by Bruce Kapplin, Allan Sean Weeks, Deana Fisher Brill, Flynn Harne, and Max Garner.
Featuring an all-star cast: Valerie Lewis, Kyla Hammond, Max Johnson, and Maria Marsalis.
Dramaturgy by Agyeiwaa Asante. Stage Management by Flynn Harne.
All performances will be live, and available both online and in person at Motor House, 120 W. North Avenue Baltimore. In-person attendance will follow strict COVID safety protocols.
Ticket prices are per person for in-person attendance; per device for online streaming. Get tickets: https://safx.brownpapertickets.com/
Gallery CA: One Year In - Resident Exhibit in the windows at Gallery CA
440 E. Oliver St. (self-guided window tour)
The Coronavirus Pandemic has been a major event in the lives of many Americans, the residents of the City Arts communities included. And for many, it's been a period of time defined by restrictions in movement, changes in behavior, increased awareness and intentionality, and generally more time alone. For many creatives, the act of making the work is already a solitary practice, but creating during a pandemic has posed a different kind of challenge. Please join us in a different version of our annual resident show in which City Arts and City Arts 2 residents share the work they made during the pandemic. Some of this work was inspired by the experience, some was made to stay busy, and some took on a life of its own.
Blue Light Junction hosts a golden hour in the garden. Head over to 1825 N Calvert St. later in the evening for a special screening! Blue Light Junction will share more about their natural dye studio, alternative color lab, and educational programming coming up. We'll see short films by artist Pierre Bennu from Exit the Apple, and Rosa Sung Ji Chang, a Korean artist and indigo/natural dye plant grower.
Looking ahead: MONO PRACTICE, a collectively run artist gallery just across the street from Blue Light Junction with an alley entrance, will have a show coming Fall 2021! Check out their online gallery and follow them for updates: https://www.monopractice.com/monoplatform
SNF Parkway/Maryland Film Festival: Save the date!
Experience Film for Everyone at the 2021 Maryland Film Festival, May 19–27! 9 days of the best in up-and-coming cinema, with short films, feature films, local, international, documentary, narrative, animation, genre, and more.
Look out for in-person events at the Parkway this May. Follow updates @@mdffparkway and get tickets now before they sell out!
MFF TICKETS: https://mdfilmfest.com/2021-festival/
---------
Station North Arts District is now a proud program of Central Baltimore Partnership.
Special thanks to the William G. Baker, Jr. Memorial Fund, Central Baltimore Partnership, Johns Hopkins University and the Station North Board for making this event possible!
Event Contact
Maura Dwyer
4109163197
Event Details
Friday, May 7, 2021, 5:00 PM – 8:00 PM
Free
Location
Add Event To Your Calendar