Baltimore Choral Arts Presents Masterworks Moments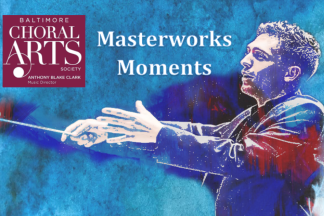 Baltimore Choral Arts Society presents a new virtual community singing series titled Masterworks Moments. This series is curated to stay connected and musically engaged with the community, using the joy of choral music to unify and inspire. This is a free and open community series inviting both singers and spectators.
Music Director Anthony Blake Clark and Associate Conductor Leo Wanenchak will rehearse great choral works on Zoom with the general public. They will point out intricacies of different moments in choral music and help illuminate unique challenges of different masterworks. Participants will then sing these masterworks together.
During the session, each participant's audio will be muted, singing along to the music with the instruction and accompaniment provided by Blake Clark and Leo Wanenchak. There will then be a Q&A session with the two to further discuss the music. The next Masterworks Moments session will be held on Monday, August 10, 2020 at 7:30 pm EDT. This session will focus on Bach's St. John Passion.
The third Masterworks Moments session was held on Monday, July 13, 2020 at 7:30 pm EST. This session focused on Mozart's C Minor Mass. You can watch the recording of the session in the video below:
Event Contact
Karena Ingram
4105237070
Event Details
Monday, August 10, 2020, 7:30 PM – 9:00 PM
4105237070
Free
Location
Add Event To Your Calendar