Super City: Virtual Front Row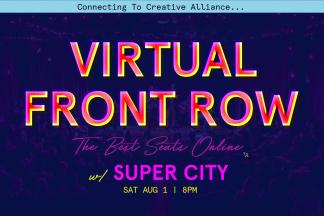 Super City's old-school showmanship - coordinated band choreography and a hooky pop sound that blends heavy rock elements and danceability - is the perfect match for Creative Alliance's new streaming portal. Shows will be broadcast LIVE from the Patterson Theater in HD with all sorts of extra surprises. These are the best seats on the internet, we promise.
----
About Super City:
Melodic and guitar-driven, Super City is known for their hooky pop sound that blends heavy rock elements and danceability, all with coordinated band choreography that results in killer live performances. This Baltimore band expertly crafts guitar and synth earworms that thrive on the creative tension between bombastic rock and roll and stylized movements. Their structures and melodies leave no room for a dull track. At times soothing and inviting, at times posturing and timeless, Dan Ryan and Greg Wellham vocally guide this pop band into a new, heavy, and beguiling territory that is both memorable and brash.
A portion of the proceeds from this event will go to support the Equal Justice Initiative that works to end mass incarceration, excessive punishment, and racial inequality. To learn more about their work please visit eji.org.
About your virtual ticket:
All ticket levels will receive a confirmation email with an access link to view this performance live on Saturday the 1st of August at 8pm. Access is available for one device at a time and cannot be shared. Access is through the provided link and not available via other platforms (Facebook, Youtube, etc). All price levels will receive the same viewing experience. Tickets revenue is split between artists and Creative Alliance. If you have the means, the Supporter level ticket ensures additional artist and organizational support.
$8, $5 Members | $15 Supporter
Event Contact
Event Details
Saturday, August 1, 2020, 8:00 PM – 9:45 PM
Location
Add Event To Your Calendar