One for the Books: Online Exhibit & Virtual Art Workshops for Hereford Library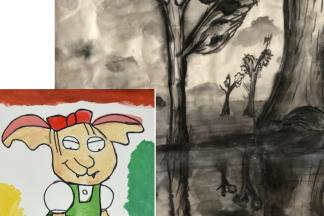 Every spring for the past few years, Make Studio artists have been invited to come "up county", to show their work in special exhibitions highlighting inclusion, creativity, and community in the beautiful public spaces of Baltimore County Public Library's Hereford Branch. Several of our artists have also developed and presented popular mixed media workshops to groups in the library's The Hive makerspace.
For 2020, Make Studio artists planned to show their work in the library alongside a companion exhibition from our friends at Itineris, titled "At the Crossroads: Exploring Autism with Authenticity." Regrettably, our in-person reception with Itineris artists had to be cancelled, but the show goes on online! We invite you to "browse the catalog" of Make Studio artists' selection of artworks for Hereford, inspired by literature and/or with an imaginative literary bent at http://make-studio.org/one_for_the_books.html, all available to view online through June 15th, 2020.
Also might we suggest you try your hand at two virtual versions of workshops that our artists had prepared for the Hive, including Erika Clark's "Painting and Playing with Ink" and "Cardboard Cutouts with Jules Hinmon"? Access the workshops at http://make-studio.org/one_for_the_books.html. These fun workshops are short and suitable for most ages and all abilities levels. Please do share what you make with us on our Facebook and Instagram pages, and let the artists know what you think!
You can learn more about Baltimore County Public Library's operations and available resources during COVID-19 at https://www.bcpl.info/blog.
Our collaboration with Hereford Library has been made possible, in part, through generous support from the Baltimore County Commission on Arts & Sciences.
Event Contact
Erin Barach
4436273502
Event Details
Saturday, May 16, 2020, 12:00 AM – Tuesday, June 30, 2020, 12:00 AM
Free
Location
Add Event To Your Calendar