Civil Hands Unclean - Digital Play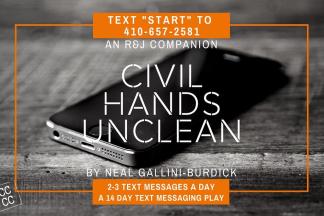 CIVIL HANDS UNCLEAN is a modern companion piece to William Shakespeare's Romeo and Juliet, written by Resident Artist Neal Gallini-Burdick. This experience is FREE and non-participatory. Once you text "START" to 410-657-2581, the play will continue to its end until you specify otherwise. Standard text messaging rates apply. Share with your friends and follow along together!
Suggested age 16+ for some language and sexual references. Parental guidance suggested.
Event Contact
Charm City Classics Company
Event Details
Ongoing
Free
Location
Add Event To Your Calendar