It's More Than History Lecture Series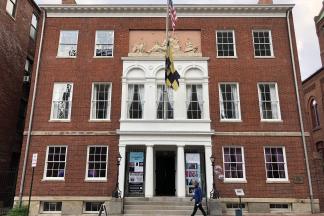 Kacy Rohn: Remembering the Maryland Women's Suffrage Movement
Register for FREE event
Maryland women played an important role in the passage of the 19th Amendment. They organized, demonstrated, and campaigned for decades to win the right to vote, but their names and contributions have been forgotten or omitted from the historical record. Kacy Rohn will discuss her research she performed for the Maryland Historical Trust that provided new insight into the statewide suffrage movement and uncovered over fifty historic sites where women fought for voting rights. Many of these sites are concentrated in Baltimore, which served as a hub of statewide organizing and home to many prominent suffragists.
Additional lecture in this series on April 24.
Event Contact
Shauntee Daniels
410-8786411
Event Details
Friday, March 27, 2020, 12:00 PM – 1:00 PM
Free
Location
Add Event To Your Calendar
What Others Are Saying
These lectures are wonderful, I've learned more about Baltimore attending lectures than 20 years of living in Baltimore. Keep up the good work.