Catherine Russell Concert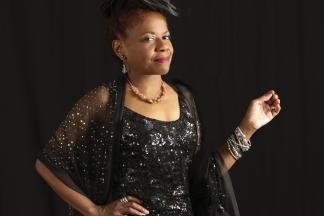 The Baltimore Chamber Jazz Society hosts recent Grammy nominated jazz vocalist Catherine Russell in concert Sunday, March 1, 2020. With her recent GRAMMY nomination for Best Jazz Vocal Album, Alone Together, Russell solidifies her reputation as one of the greatest interpreters and performers of American Popular Song. She is a rare talent, a genuine jazz and blues vocalist who can sing virtually anything. Her repertoire features gems from the 1920s through the present—vital interpretations, bursting with soul and humor.
According to JazzWeek, which announced Russell's recent album was #1 on its 2019 Year End Jazz Chart, "Alone Together offers a welcome reminder that there's no one else in jazz doing what [Catherine] does, and that the scene would be immeasurably poorer without her."
Russell will be accompanied by Mark Shane on piano, Jon-Erik Kellso on trumpet, Tal Ronen on bass, and Mark McLean on drums.
ABOUT THE BALTIMORE CHAMBER JAZZ SOCIETY:
The host of one of Baltimore's premier jazz concert series for 28 years, the Baltimore Chamber Jazz Society has a rich history of bringing the world's finest jazz artists to the region for memorable performances in an intimate setting. The BCJS is supported by a grant from the Maryland State Arts Council (MSAC), an agency dedicated to cultivating a vibrant cultural community where the arts thrive. An agency of the Department of Business & Economic Development, the MSAC provides financial support and technical assistance to nonprofit organizations, units of government, colleges and universities for arts activities. Additional BCJS partners are radio stations WEAA and WYPR. More information about the BCJS and upcoming concerts is at baltimorechamberjazz.org.
Event Contact
Juliana Marin
410-385-5888
Event Details
Sunday, March 1, 2020, 5:00 PM – 7:00 PM
410-385-5888
Location
Add Event To Your Calendar