Mushroom City Art Festival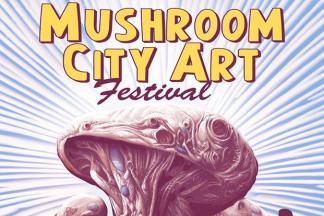 Mushroom City Art Festival
at Gallery 788 and The Baltimore Free Farm (10/3 - 10/5)
Workshops and talks will be held 10/4 and 10/5 at the BFF and G788
and The Mushroom City Art exhibit will run at G788 until Sunday, 10/26!!
Mushroom City Art Festival 2014 will be an interactive exploration of the Mushroom as an organism: focusing on its impact on our ourselves and our environment. Discussions, art, music, workshops and walking tours will reveal the many real world applications for mushroom cultivation in contemporary urban life.
Why Mushroom City Art Festival?
The mushroom, often portrayed only as a food product, plays a remarkable role in developing and sustaining the environment. Mycelium, the underground root-like network of mushrooms, plays a critical role in maintaining healthy soil by absorbing and processing toxins, heavy metals, and even synthetic substances such as plastic or oil, and converting them into useful organic nutrients.
Mycelium, structured-like neurons in the brain or the branching of tree limbs, illustrates how interconnected structures exist in nature and on all levels of life. It's in learning how interconnected systems function that we see opportunities for growing and engaging the world. In our 21st century world, where our traditional methods of production, consumption, and interaction with the environment break down a little more each day, we can afford to widen our perspective and learn from the living world around us.
Through Mushroom City Arts, we hope to educate ourselves and one another by exploring both the practical and the intuitive aspects of the mushroom. We hope you come and learn how this life form can inspire and help us move forward into a more sustainable future.
Mushroom City Art Festival Schedule
Thursday, 10/2 7pm at the BFF
Growing and Using Fungi in the Home Landscape - Michael Judd, author ofEdible Landscaping with a Permaculture Twist
Party Opening Night - 10/3 7-11 pm ($10 at door)
with music by:
Canopy http://canopysongs.bandcamp.com/
DEEPG
Marian McLaughlin http://marianmclaughlin.bandcamp.com/
pillowbook https://www.facebook.com/pillowbookmusic/app_178091127385
A Path Untold
Kitmaking Workshop with The Corner Spore
Overview of basic myco processes and kitmaking. Loose structure, talk, show and tell, q and a
Mushroom Log Workshop w/ Free Farm
Join Ted Martello and Don Barton of Baltimore Free Farm for a one hour primer session on how to make your own mushroom logs! We will have everything needed to make logs and you can get hands-on experience with real logs and spawn,become familiar with the materials and tools required, and learn methods for inoculating logs as well as care and fruiting techniques! We will be packing a lot of information into a small time frame so show up on time!
Talk on Psychedelics Healing Addiction - Matt Johnson, Professor of Psychiatry at Johns Hopkins
with bioluminescent mushrooms grown by Jeff Schatz (Corner Spore) as part of the garden tour ♥
Art by:
Susana Reyes Alcalá
Dan Van Allen
Summer Blake
Sean Conroy
Kalinin Cornelis
Harrison Lance Crawford
Michael David
McKenzie Ditter*
Robin Gunkel
Robert Hoffman
Kenny Johnston
Elinda Peterson
Pablo Machioli
Sean McCutcheon
Fred Merrill
Matt Muirhead*
Kelly Ann Richmond
Martha Simons
Tarryn Torn
Michael Verdon
Renee Weber
more artists TBA!!!!
* McKenzie Ditter and Matt Muirhead will be creating an immersive art installation that all the art submissions will be exhibited inside of!!
Are you interested in submitting a piece of art to Mushroom City?
http://mushroomcityartfestival.org/art-submissions/
Deadline for submission September 26th!
Check the facebook event for updates regarding the schedule and workshops!
Event Contact
410-575-4233
Event Details
Friday, October 3, 2014, 7:00 PM – 11:00 PM
Repeats daily -- until Sunday October 5, 2014.
Location
Add Event To Your Calendar