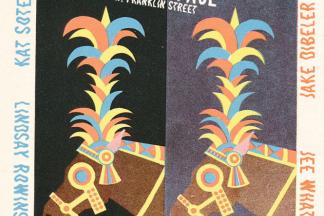 ARE YOU READY FOR THE MOST TERRIFIC EXPERIENCE OF YOUR LIFE?
ARE YOU READY FOR THE MOST TERRIBLE EXPERIENCE OF YOUR LIFE?
THE TIME OF YOUR LIFE,
THE TIME OF YOUR LIFE.
THE TIME OF OUR LIVES.
A performance event.
Witness an entanglement of realities
Unfortunately or fortunately, a little bit of spectacle.
Give us a sweet mature depression.
Spill the wine.
Director 1 interjects
Director 2 interjects
WE HAVE DREAMS AND WE WANT TO BE FAMOUS!
A very live live very live performance.
BETTER TO BE SORRY THAN SAFE.
A collective moment.
---------------------------------------------------
THE WILD WALLS
A Night of New Works in Performance Art
Directed by Kat Sotelo
Curated by Pete Razon
Featuring pieces written and performed by Jake Dibeler, Kat Sotelo, Lindsay Rowinski, and Jee Whatever.
Acts unfold on a revolving stage, sets (de)constructed to perform the gallery.
Beginning with death, followed by dreams,
into a forest, kidnapped by a phantom.
"Ahh the great outdoors!"
Critically acclaimed as "the most psychotic performance of our decade".
You are cordially invited to share this special evening with us…
3 NIGHTS.
AUGUST 16 - 18
Doors / Exhibition at 6pm
Performances at 8pm.
Event Contact
Kat Sotelo
7327633848
Event Details
Repeats every 3 days -- until Sunday August 18, 2019.
Prices:
$5-10 Sliding Scale
–
$
7327633848
Location
Add Event To Your Calendar