Bard to the Bone: Romeo & Juliet/The Merry Wives of Windsor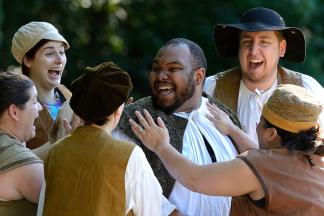 Summer and Shakespeare go together like iced tea and lemonade! Prepare for summer fun as we lead you through a discussion of BSF's 2019 summer shows: the heartbreaking tragedy Romeo and Juliet and the side-splitting comedy The Merry Wives of Windsor. We will discuss the historical and literary background of these plays along with their characters and themes.
This is the July meeting of BSF's bimonthly Shakespeare appreciation society, Bard to the Bone. Topics vary, but each meeting will give you an opportunity to learn more about William Shakespeare and the Baltimore Shakespeare Factory, meet other Shakespeare fans, and enjoy lively and spirited discussion. Wine, cheese, and other beverages and snacks will be provided.
RSVPs are appreciated, but not required.
All meetings take place inn our building at 3900 Roland Ave. Follow the signs when you arrive!
Event Contact
Ann Turiano
410-662-9455
Event Details
Thursday, July 11, 2019, 7:00 PM – 9:00 PM
410-662-9455
Free Admission
Location
Add Event To Your Calendar