Teaching and Making with Big Ideas in Mind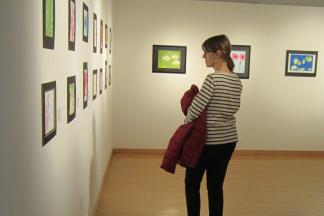 An exhibit featuring work by Howard County Public School System art faculty. During the summer, K-12 art teachers expanded their own artistic practice, and broadened their understanding of contemporary artists and teaching for big ideas, through in-depth research of contemporary artistic sources, and an exploration of new media and processes. Through immersion in the studio and collaboration with peers, teachers explored their own identity through their personal art-making to better understand and empathize with the struggle their students experience, and to ultimately develop rigorous, developmentally appropriate instructional experiences in the classroom.
Exhibit runs March 8 - April 19, with a free public reception on April 4 from 5-7pm. Gallery hours: Mon-Fri 10am-8pm, Sat 10am-4pm, Sun 12-4pm.
Event Contact
Elli Hernandez
410-313-2787
Event Details
Repeats weekly Monday and Tuesday and Wednesday and Thursday and Friday -- until Friday April 19, 2019.
Repeats weekly Saturday -- until Saturday April 13, 2019.
Repeats weekly Sunday -- until Sunday April 14, 2019.
Free Admission
Location
Add Event To Your Calendar