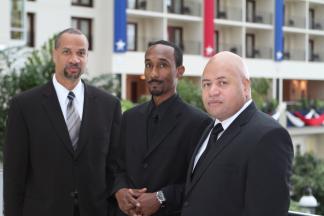 "Classic jazz for the contemporary audience" has been the mantra for this band since its inception in 2010. Led by pianist/composer/arranger Prakash Wright, the trio focuses original compositions and unique arrangements of jazz standards and popular songs by artists like Sting, Stevie Wonder, and Michael Jackson.
Wright, a native of Washington, D.C., holds a B.A. in Music Theory & Composition from McDaniel College and an M.A. in Jazz Studies from the University of North Texas. Wright began playing jazz piano while attending McDaniel drawing influence from the likes of Wynton Kelly, HerbieHancock, Keith Jarrett, and Kenny Barron. Wright has shared the stage with drummer Benny Madina Sr., the late tenor saxophonist Marchel Ivery, and vocalists Carla Norris-Hopkins, Nia Olabesi, and Diane Daly. Currently a faculty member at The University of the South in Sewanee, TN, Wright is known for an impeccable sense of swing, tasteful arrangements, and bold original compositions.
Born and raised in the City of Brotherly Love, Bobby Beall is a product of the sounds of Philly: Harold Melvin, MFSB, The O'Jays, and The Stylistics. Influenced by a musical family, Bealltaught himself to play drums by listening to recordings by Billy Cobham, Narada Michael Walden, Airto, and Peter Erskine. He developed his love for jazz while attending Howard University. Always a crowd pleaser, Beall isknown for his energy and infectious grooves.
Mike Montgomery began studying jazz at Virginia Tech playing electric bass. After a 15-year, post-graduation hiatus, he made a commitment to the double bass and straight-ahead jazz. Montgomery, also a native of D.C., formed his own quartet briefly before landing gigs with local artistsincluding vocalists Tara Hofmann and Sandy Asirvatham, and guitarist Kevin Mittleman. Montgomery has recorded with bass icon Victor Wooten and is known for giving the music "just what it needs" in the way of low-end support.
Since December 2012, the Kash Wright Trio has released three CD's including In the City of David (2012), And There It Is (2013), and Hymnology Vol. 1 (2015). The trio also appeared on Infinite (2014), the debut CD for Washington, D.C. vocalist Sharon Raquel.
Event Contact
Cyd Wolf
410-752-4515
Event Details
Saturday, July 14, 2018, 6:00 PM – 9:00 PM
Prices: – Array
1
Redemption Instructions
Five tickets are offered at half-price for each Cabaret performance. To claim yours, please call Germano's PIATTINI to make a reservation for dinner and the show. Mention this CultureFly discount when you do so. We will process your half-price ticket purchase during your call. Thank you! (410) 752-4515
Location
Add Event To Your Calendar