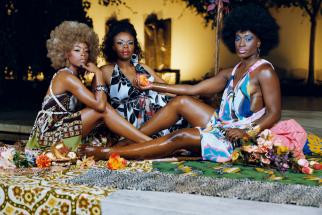 Sunday, November 24, 2019, 10:00 AM – Sunday, May 2, 2021, 5:00 PM
Repeats weekly Sunday and Wednesday and Thursday and Friday and Saturday -- until Sun May 02 2021 -- except Thu Nov 28 2019, Wed Dec 25 2019, Wed Jan 01 2020, Sat Jul 04 2020, Thu Nov 26 2020, Fri Dec 25 2020, Fri Jan 01 2021.
Baltimore Museum of Art
Free Admission
Mickalene Thomas' immersive two-story installation will transform the BMA's East Lobby into a living room for Baltimore. The experience will extend onto an enclosed terrace where the BMA will host a series of events, such as film screenings, artist talks, performances, workshops, book clubs, and self-care seminars. Influenced by the 1970s and 1980s, Thomas' signature aesthetic incorporates geometric patterns, prints, textures, wood paneling, and shag carpeting, among other nostalgic motifs.