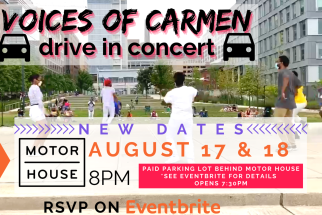 Monday, August 17, 2020, 8:00 PM – 9:00 PM
Repeats daily -- until Tue Aug 18 2020.
Motor House
Free
RAIN CHECK! New Dates - Mon, August 17th and Tues, August 18th
Pull up in your car and spend an evening with the cast of Voices of Carmen. Hear excepts from Voices of Carmen performed by our 2020 Cast!
The Carmen Concert includes fresh new arrangements of George Bizet Opera Carmen plus original songs, from Pop to Hip Hop and R&B, written and arranged by CJay and Winston Philip. This concert series is based on their musical VOICES OF CARMEN which brings a contemporary spin to this iconic story.