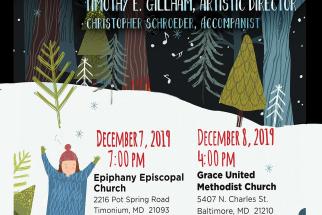 Epiphany Episcopal Church
The New Wave Singers of Baltimore, Maryland's Premier GLBTS Chorus, performs music that celebrates all of humanity in its infinite variations. Tim Gillham, Artistic Director, is starting his second year at the helm of the 60+ member chorus. Joining him in his new position as Accompanist is Christopher Schroeder.
New Wave Singers will be presenting two Winter Concerts:
Saturday 7 PM December 7th at Epiphany Episcopal Church 2216 Pot Spring Rd. Timonium, MD 21093, and
Sunday 4 PM December 8th at Grace United Methodist Church 5407 N. Charles St. Baltimore, MD 21210.