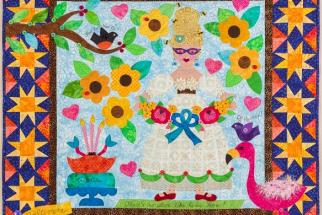 Maryland Historical Society
This exhibition is on view through March 2020. The MdHS museum is open Wednesday-Saturday, 10 am-5 pm, and on Sundays, 12 pm-5 pm.
The exhibition features one-of-a-kind appliqué quilts created by Baltimore-native Mimi Dietrich. Ms. Dietrich is one of Maryland's and the nation's most accomplished quilters. In 2015 she was inducted into The Quilters Hall of Fame in Marion, Indiana. "Hometown Girl" tells Ms. Dietrich's story as a life-long Marylander and Baltimore native, and draws inspiration from the many students she has taught over her 35-year career.