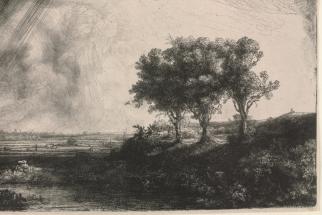 Wednesday, January 26, 2022, 10:00 AM – 5:00 PM
Repeats weekly Sunday and Wednesday and Thursday and Friday and Saturday -- until Sun Apr 10 2022 -- except Sat Dec 25 2021, Sat Jan 01 2022.
Baltimore Museum of Art
Free
Rembrandt van Rijn (1606–1669, Netherlands) is universally acknowledged as one of history's greatest etchers, uniquely manipulating the etching needle and ink to create contemplative and affecting prints that have engaged viewers across centuries. His influence on the history of Western printmaking is foundational, especially for printmakers of the Etching Revival (1850–1930), such as Jean-Baptiste-Camille Corot, Édouard Manet, James A. M. Whistler, Mary Cassatt, and Mary Nimmo Moran.