Kidney Health Risk Assessment at B'More Healthy Expo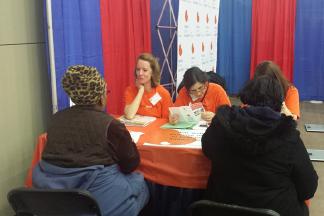 Celebrate National Kidney Month by taking the National Kidney Foundation of Maryland's (NKF-MD) free Kidney Health Risk Assessment to identify if you're an adult at risk for chronic kidney disease.
The assessment uses a simple Body Mass Index (BMI) calculation, blood pressure measurement and a short six-question questionnaire to make participants aware of their risk factors for chronic kidney disease.
Participants will receive brief consultations with physicians and dietitians to learn about kidney disease, as well as general nutrition and wellness guidelines.
Individuals not at risk will be given educational materials about maintaining good health, while those at risk will be directed to further screenings and advised to talk to medical professionals. Those at risk are encouraged to follow up with their physician and to maintain regular primary care visits.
Overall, kidney disease affects 26 million people – that's one in nine Marylanders and one in eight in Baltimore. One in three American adults – 73 million people – are at risk for kidney disease, and the risk increases to one in two over the course of a lifetime.
Serving central and western Maryland, the Delmarva Peninsula and portions of Virginia and West Virginia, the National Kidney Foundation of Maryland is the area's only voluntary health agency dedicated to preventing kidney and urinary tract diseases, improving the health and well-being of individuals and families affected by these diseases, and increasing the availability of all organs for transplantation. For more information, visit www.kidneymd.org.
Event Contact
Jessica Quintilian
Event Details
Saturday, March 19, 2016, 10:00 AM – 5:00 PM
Free
Location
Add Event To Your Calendar