Spectrum: 2015 UMBC Visual Arts Faculty Exhibition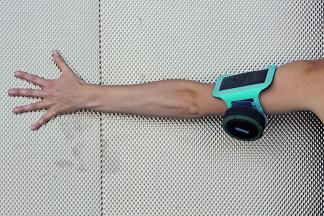 Spectrum: 2015 UMBC Visual Arts Faculty Exhibition
Center for Art, Design and Visual Culture
October 8 – December 13
UMBC's Center for Art, Design and Visual Culture presents Spectrum: 2015 UMBC Visual Arts Faculty Exhibition, featuring artworks by Lee Boot, Irene Chan, Kathy Marmor, Timothy Nohe, and Eric Smallwood.
An opening reception will be held on Thursday, October 8, from 5 to 7 pm, and the gallery will open for regular hours on Friday, October 9.
Admission to the exhibition is free. The Center for Art, Design and Visual Culture is open Tuesday through Saturday from 10 am to 5 pm and is located in the Fine Arts Building. For more information call 410-455-3188.
Click here for directions and parking information.
Image by Timothy Nohe.
Event Contact
Event Details
Repeats weekly Tuesday and Wednesday and Thursday and Friday and Saturday -- until Monday December 14, 2015.
Free
Location
Add Event To Your Calendar