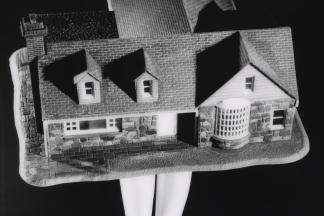 The inaugural exhibition for the BMA's new Center for People & Art brings together 37 works from across the BMA's collection to explore the universal theme of home. Visitors will discover paintings, sculptures, decorative arts, textiles, and works on paper from the Americas, Europe, Africa, Asia, and the Pacific Islands, as well as four miniature rooms, plus a variety of interactive features presented in three thematic areas:
Façades & Thresholds: Transitional spaces such as doors, windows, and porches convey the history of a dwelling as well as the identity and values of its makers and occupants. Emile-Antoine Bourdelle's sinister bronze Medusa Door Knocker (1925) and a colorful early 20th-century Suzani prayer rug from Central Asia show how we mediate the public and private through objects.
Domestic Interiors: Works made for or featuring domestic settings invite visitors to consider how we make home. Paintings like Marguerite Gerard's Motherhood (c. 1795) and a selection of chairs, vessels, and other objects from an ancient Greek krater to a modern toaster reflect the individual, familial, social, and cultural identities and activities of their owners.
Arrivals & Departures: Objects that show a world of constant transformation and movement include Alfred Stieglitz's Steerage (1907) photograph of passengers boarding a ship, Susan Harbage Page's Hiding Place No. 3, Laredo, Texas (2011) large-scale photograph of a temporary shelter for someone crossing the U.S./Mexican border, and an ancient Nayarit Model House (c. 200 A.D.) created for the afterlife.
Event Contact
Sarah Pedroni
4435731870
Event Details
Thursday, March 22, 2018, 11:00 AM – 5:00 PM
Repeats weekly Sunday and Wednesday and Thursday and Friday and Saturday -- until Sunday August 12, 2018 -- except Friday December 25, 2015, Friday January 1, 2016, Sunday December 25, 2016, Sunday January 1, 2017.
Free Admission
Location
Add Event To Your Calendar