The Natural Order of Things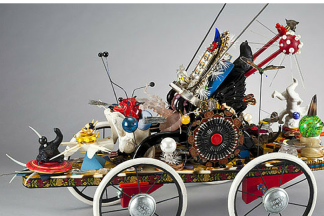 The Natural
Order of Things
NICK BUBASH
On View: June 5 - June 14
MICA's Curatorial Practice MFA'16 candidates Ashley DeHoyos, Jen Melvin, Chrissie A. Miller, and Nick Petr present The Natural Order of Things, an exhibition of works by Pittsburgh-based, mixed-media artist Nick Bubash, at MICA's Sheila & Richard Riggs Gallery, Fred Lazarus IV Graduate Studio Center, June 5 –14, 2015.

The Natural Order of Things featuring Bubash's assemblages, collage work and drawing offer visitors an opportunity to react to the works and to build their own assemblages.

Programming

Friday, June 5th, 5:30 pm
Gallery talk w/ artist Nick Bubash
Join us in the Sheila and Richard Riggs gallery for an artist talk with Nick Bubash and the curators as they discuss Bubash's practice and the work that will be shown in the gallery.

Opening reception to immediately follow the artist talk.

MICA's Sheila & Richard Riggs Gallery
Fred Lazarus IV Graduate Studio Center
131 W. North Ave. Baltimore, MD 21202

Snap a photograph of your creations and don't forget to share with us on our Instagram account (@TheNaturalOrderofThings).


Saturday, June 13th, 1:00 – 3:00 pm
Interactive program led by Pittsburgh-based art educator Dave English
The Natural Order of Things aims to grant visitors the opportunity to explore their relationship to everyday objects. Artist-educator Dave English will lead an interactive program; visitors are given the chance to create their own assemblages. The gallery will have two stations available for visitors: one filled with random toys, trinkets and found objects; the other, supplied with fasteners, glues, and other adhesives. Join the curators for this fun-filled afternoon to learn about the art of building assemblages and to create your own takeaway artwork.
MICA's Sheila & Richard Riggs Gallery
Fred Lazarus IV Graduate Studio Center
131 W. North Ave. Baltimore, MD 21202
Gallery Hours: Monday-Saturday 10:00AM-5:00PM
Sunday 12:00PM-5:00PM
Both events are free and open to the public.
The Natural Order of Things is made
possible through generous support from MICA Curatorial Practice MFA, MICA Graduate Studies, The Mixed Media Speaker Series and Friends of Curatorial Practice at MICA.
Founded in 1826, Maryland Institute College of Art (MICA) is the oldest continuously degree-granting college of art and design in the nation. The College enrolls nearly 3,500 undergraduate, graduate and continuing studies students from all 50 states and 57 countries in fine arts, design, electronic media, art education, liberal arts, and professional studies degree and non-credit programs. Redefining art and design education, MICA is pioneering interdisciplinary approaches to innovation, research, and community and social engagement. Alumni and programming reach around the globe, even as MICA remains a cultural cornerstone in the Baltimore/Washington region, hosting hundreds of exhibitions and events annually by students, faculty and other established artists.
MICA's exhibitions and public programs receive generous support from the Robert and Jane Meyerhoff Special Programs Endowment; the Amalie Rothschild '34 Residency Program Endowment; the Rouse Company Endowment; the Richard Kalter Endowment; the Wm. O. Steinmetz '50 Designer-in-Residence Endowment; the Rosetta, Samson, and Sadie Feldman Endowment; the Maryland State Arts Council, an agency dedicated to cultivating a vibrant cultural community where the arts thrive; and the generous contributors to MICA's Annual Fund.
Event Contact
Jen Melvin
412-716-9189
Event Details
Friday, June 5, 2015, 5:30 PM – Sunday, June 14, 2015, 5:00 PM
Free Admission
Location
Add Event To Your Calendar