COMMUNITY YOGA W/ FREE BALTIMORE YOGA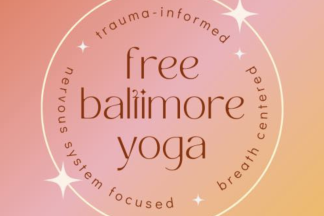 Free Baltimore Yoga is a safe space grounded in community movement. Our sessions aim to be accessible trauma-informed, nervous system focused, and breath centered. IG / Facebook: @freebaltimoreyoga
About Catarina
I am a passionate Yoga instructor and Integrative Nutrition Health Coach with graduate studies in Health and Clinical Psychology. My goal is to create a supportive community and empower individuals to make positive choices. I began my Yoga journey with Breathwork and have since deepened my knowledge through various trainings. I am currently enrolled in a 300H program to further enhance my skills. I am also a certified Breathwork facilitator. I have launched online platforms and opened two physical studios. I have had the privilege of teaching at esteemed locations such as BambooMoves Yoga, Johns Hopkins, and Breathwork Space.
Location: Creativity Center, 3137 Eastern Ave. Baltimore MD 21224
​Age Range: All ages
Cost: Free
Materials: Mats available in the class or bring your own!
Event Contact
Event Details
Saturday, December 2, 2023, 12:00 PM – 1:00 PM
Saturday, December 9, 2023, 12:00 PM – 1:00 PM
Saturday, December 16, 2023, 12:00 PM – 1:00 PM
Free
Location
Add Event To Your Calendar