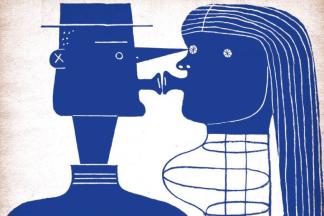 "It's an hour's worth of remarkable and felicitously enticing theatre that you won't want to miss…" – TheatreBloom
"If you'd like to see something sweet, see Hubba Hubba. If you want to look at something technically beautiful, see Hubba Hubba. If you want to enjoy something you've never experienced before, see Hubba Hubba." – DC Theater Arts
Alex and Olmsted have "an amazing mastery of their craft … a brilliant multi-media spectacle …" – BroadwayWorld
HUBBA HUBBA - A Show About Romantic Love
By Alex and Olmsted
March 21 – 31
Back by Popular Demand!
Created and performed by Alex and Olmsted, HUBBA HUBBA is a collection of vignettes using puppetry and movement to explore different aspects of romantic love.
From the dawn of life to modern romance and beyond, HUBBA HUBBA is a comedy that incorporates handmade mechanical objects, puppets, trick costumes, and masks to investigate the many different qualities of love's triumphs and love's obstacles.
There will be live singing and music, shadow puppetry and physical comedy, and, as is expected from an Alex and Olmsted production, audience participation.
Appropriate for all ages!
Showtimes:
March 21 @ 8pm (Pay What You Can)
March 22 @ 8pm
March 23 @ 3pm
March 23 @ 8pm
March 24 @ 3pm
March 28 @ 8pm
March 29 @ 8pm
March 30 @ 3pm
March 30 @ 8pm
March 31 @ 3pm
Tickets:
General Admission: $20
Student/Senior/Artist/Military: $15
March 21st is Pay What You Can (Enter PWYC in Promo Code box when purchasing online)
HUBBA HUBBA Trailer
Event Contact
410-752-8558
Event Details
Thursday, March 21, 2024, 8:00 PM – 9:30 PM
Repeats weekly Thursday and Friday and Saturday -- until Saturday March 30, 2024.
Saturday, March 23, 2024, 3:00 PM – 4:30 PM
Repeats weekly Sunday and Saturday -- until Sunday March 31, 2024.
410-752-8558
Location
Add Event To Your Calendar