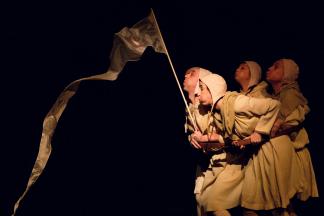 ADRIFT
A Medieval Wayward Folly
By Happenstance Theater
February 22 – March 3
Happenstance Theater's ADRIFT is inspired by medieval imagery and archetypes collected from the works of Hieronymous Bosch, Pieter Bruegel, the Major Arcana of the Tarot, and reinterpretations of religious and alchemical art.
Drawing parallels between our current moment and the "dark ages," the ensemble explores foolishness, mystery, mortality and absurdity. Accompanied by live, rustic and angelic music, puppetry, movement and minimal text.
Like a ship of fools, this pod of eccentrics will drift into the world to bring delight, share hopes and fears, find a way forward, and then parade away.
Showtimes:
February 22 @ 8pm (Pay What You Can)
February 23 @ 8pm
February 24 @ 3pm
February 24 @ 8pm
February 25 @ 3pm
February 29 @ 8pm
March 1 @ 8pm
March 2 @ 3pm
March 2 @ 8pm
March 3 @ 3pm
Tickets:
General Admission: $25
Senior/Artist/Military: $20
Student: $15
February 22nd is Pay What You Can
ADRIFT Trailer
Event Contact
Chris Pfingsten
410-752-8558
Event Details
Thursday, February 22, 2024, 8:00 PM – 9:30 PM
Repeats weekly Thursday and Friday and Saturday -- until Saturday March 2, 2024.
Saturday, February 24, 2024, 3:00 PM – 4:30 PM
Repeats weekly Sunday and Saturday -- until Sunday March 3, 2024.
410-752-8558
Location
Add Event To Your Calendar