National Virtual Elder Arts Jam!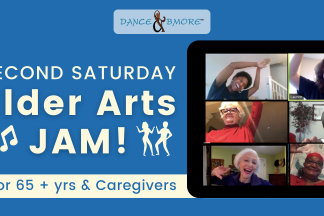 Dance & Bmore's Elder Arts Program is a creative space to share music, movement, and memories. This lively virtual jam gives senior citizens room to dance, talk, sing, share stories, and laughs.
Classes include:
Music, Movement, and Games
"Did You Know" Health Tips segment featuring research and the latest health news for the aging
Open mic segment for you to share songs, poetry, and memories.
RSVP: [email protected] to receive a new Zoom link monthly.
Dance & Bmore's Elder Arts & Wellness Program
Event Contact
Dance and Bmore
4108718322
Event Details
Saturday, December 9, 2023, 10:00 AM – 10:00 AM
Saturday, January 13, 2024, 10:00 AM – 11:00 AM
Saturday, February 10, 2024, 10:00 AM – 11:00 AM
Saturday, March 9, 2024, 10:00 AM – 11:00 AM
Saturday, April 13, 2024, 10:00 AM – 11:00 AM
Saturday, May 11, 2024, 10:00 AM – 11:00 AM
Saturday, June 8, 2024, 10:00 AM – 11:00 AM
410-871-8322
Free
Location
Add Event To Your Calendar