Piano Duets: Teodora Adzharova and Shirley Yoo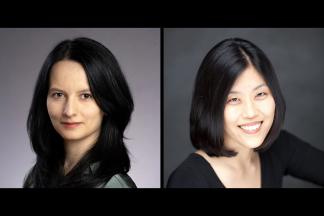 Join us for an extraordinary evening of piano mastery as we present a captivating duo-piano concert featuring the brilliant talents of Teodora Adzharova and Shirley Yoo. Prepare to be swept away by a breathtaking repertoire showcasing the works of two iconic Russian composers, Sergei Rachmaninoff and Anton Arensky.
The concert begins with Sergei Rachmaninoff's Suite (Fantaisie-tableaux) No. 1, Op. 5, composed in 1893. Experience Rachmaninoff's signature romanticism and virtuosic flair as the pianists bring to life the rich harmonies and lush melodies of this mesmerizing work.
Next, we delve into the profound beauty of Anton Arensky's Suite No. 1, Op. 15. Composed in the late 19th century, this masterful suite captures the essence of Russian Romanticism, showcasing Arensky's unique voice and profound musical sensibility.
The concert reaches its pinnacle with Sergei Rachmaninoff's powerful Suite No. 2, Op. 17, composed in 1901. Adzharova and Yoo will weave their musical magic, navigating through Rachmaninoff's complex textures and showcasing their technical brilliance, resulting in an awe-inspiring and unforgettable musical experience.
As an active soloist and a sought-after chamber musician, Bulgarian pianist Teodora Adzharova performs throughout the Baltimore-Washington region, frequently collaborating with musicians from both the Peabody Institute and the Baltimore Symphony Orchestra. She has had numerous appearances at the Sundays at Three Concert Series, Summer Chamber Music at Roland Park, Montpelier Arts Center, Washington College, Towson University, University of Maryland, Silo Hill, and as part of the Hedgelawn Series. On many occasions, her recordings have been broadcast on APM's Performance Today. As a devoted educator, she is currently a faculty member at the Peabody Institute, UMBC, and Baltimore County Community College.
Heralded by The Washington Post as a pianist with "extraordinary sensitivity and technical skill," Shirley Yoo has performed internationally at venues such as the Tata Theatre, Mumbai; Arts Center, Seoul; Penderecki Festival, Banff; Societa Filarmonica, Trento; and Steinway Hall, London. Her numerous performances in the United States include radio broadcasts of solo and chamber recitals on WQED and WQLN.
$15 general admission, $10 seniors, $5 students.
Earl and Darielle Linehan Concert Hall is easy to visit, with plenty of free parking. Please visit here for directions and parking information.
Event Contact
Event Details
Sunday, September 24, 2023, 3:00 PM – 5:00 PM
Location
Add Event To Your Calendar